LEARNERS WITH MULTIPLE DISABILITIES
Multiple disabilities refer to concomitant impairments (such as intellectual disability-blindness, intellectual disability-orthopedic impairment, etc.), the combination of which causes such severe educational needs that they cannot be accommodated in a special education program solely for one of the impairments. The term does not include deaf-blindness."
Causes of Multiple Disabilities
 Chromosomal abnormalities
 Premature birth
 Difficulties after birth
 Poor development of the brain or spinal cord
 Infections
 Genetic disorders
 Injuries from accidents
Characteristics
People with severe or multiple disabilities may exhibit a wide range of characteristics, depending on the combination and severity of disabilities, and the person's age.
There are, however, some traits they may share, including:
 Limited speech or communication;
 Difficulty in basic physical mobility;
 Tendency to forget skills through disuse;
 Trouble generalizing skills from one situation to another
 A need for support in major life activities/ Require on-going, extensive care (e.g., domestic, leisure, community use, vocational
 Severe-profound Mental Retardation (common characteristic)
 Frequently have additional disabilities
 Often have medical conditions or physical limitations
 Associated severe behavior problems
 Skills can become functional through appropriate interventions
 Hampered speech and communication skills,
 challenges with mobility and
 a need for assistance in performing everyday activities.
 It's also worth noting that medical conditions such as seizures and "water on the brain" (hydrocephalus) can accompany multiple disabilities.
Educational implication of multiple disabilities
• A student prone to seizures raises safety concerns inside a classroom
• Finding a setting suitable to the child's intelligence level is difficulty
• A child's ability to effectively communicate with teachers, support staff and peers is hampered
• A student's capability to function in the classroom is limited
• Assessing and compensating for visual or hearing impairments is required
Tips for Teachers and parents
Know the needs, play to the strengths. Each student with multiple disabilities will have his or her own set of skills, strengths, and learning needs. Learning more about each disability of the student will be helpful in addressing those learning needs.
Be familiar with the student's IEP. If you have a student with multiple disabilities in your class, chances are that he or she has an individualized education program (IEP). The IEP will spell out the educational and functional goals to be worked on.
Make modifications. Students with multiple disabilities often need substantial modifications and accommodations in the classroom. This will help them access the general education curriculum at a grade-appropriate level.
Allow partial participation, as necessary. This means that students with multiple disabilities aren't excluded from activities because they might not be able to complete a task fully or independently. Modifications can be made to the task itself or to how students participate.
Consider assistive technology (AT). AT is appropriate, even essential, for many students with multiple disabilities. Without AT, there may be many tasks they simply cannot perform or will have difficulty performing. Computers, augmentative/alternative communication systems, and communication boards are just some examples of helpful AT.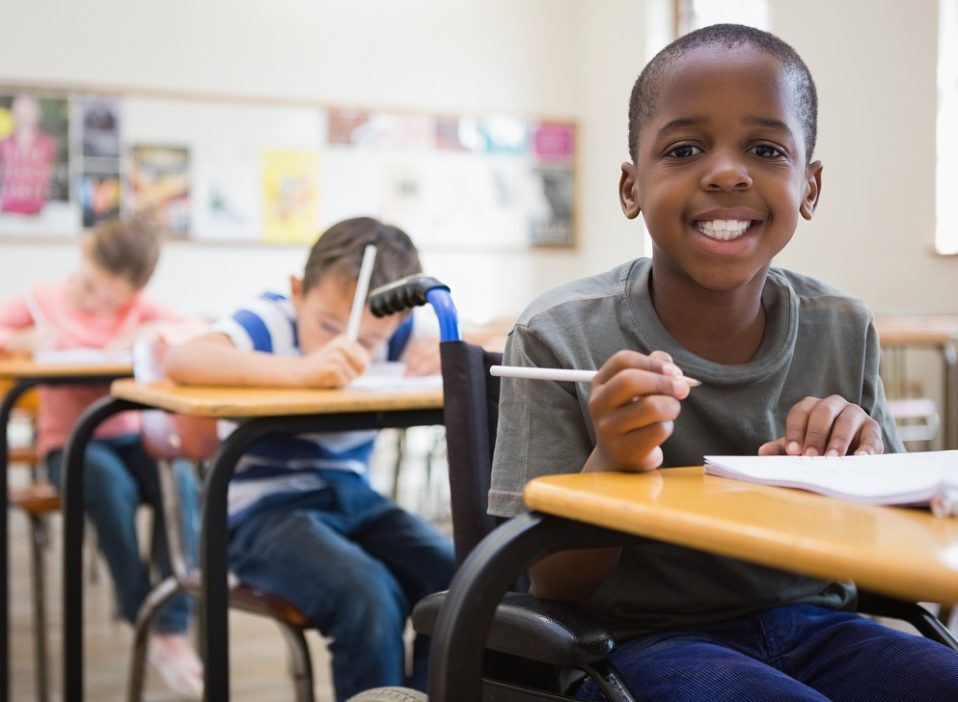 Does the student need textbooks in another format?
Practice and reinforce. Does your student's disability affect his or her intellectual functioning? If so, he or she will be slower to learn new things and will have difficulty applying that learning in new situations.
Be concrete; give lots of hands-on opportunities for learning and practice. Give feedback immediately. Repeat the learning task in different settings.
Support related services in the classroom. Depending on the student's disabilities, he or she may need related services to benefit from special education. Related services may include speech-language therapy, occupational therapy, physical therapy, or orientation and mobility services.
A paraprofessional in your classroom? Some students with multiple disabilities will require the support of an aide or paraprofessional. If this is so for your student, it helps to know about working with paraprofessionals.
Encourage the student's independence. It's natural to want to help a student who's struggling to do a task single-handedly, especially when you know there's a disability involved. But it's important for the child to develop the skills it takes to live as independently as possible, now and in the future.
Educational interventions
 Use of student's individualized education program (IEP) team: Triumphing over the educational challenges associated with multiple disabilities is a complex task headed by the student's individualized education program (IEP) team.
 Be mindful of medical conditions: Staying mindful about medical conditions can assist with classroom placement, as can being aware of a student's intelligence level
• Use of Assistive technology (AT) and alternative communication methods, including text-to-speech technologies, hearing aids and sign language, can neutralize communication problems.
• Physical therapy and occupational therapy can ease physical challenges, and in turn, they can improve a student's ability to function inside the classroom.
• Assistive technology and special education aids can be helpful here as well.
• An assigned aid can provide assistance in cases in which functioning independently is difficult or impossible.
• Priority seating to alternative textbooks: solutions ranging from priority seating to alternative textbooks (braille, audio, etc.) to hearing aids and sign language can compensate for visual and hearing impairments